Facials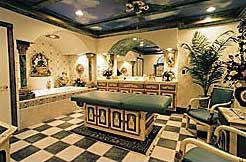 Specialty Facials
Our professional esthetician
will help you achieve
healthier, younger looking skin,
using a pure medical line. All of our specialty facials include a skin analysis, deep cleanse, steam, extractions (if needed), exfoliation, masque, and moisturizer. Followed by massage of face, neck & decolletage.
---
Roman Mud Facial
$59
The Roman Gold Mud mask will cleanse, tone, moisturize and purify the skin through the nutrients and minerals found in this unique pure mineral rich mud.
Followed by massage
of face, neck & shoulders. This unique facial doesn't include steam or extractions.
European Facial

$79 1 hr
This customized treatment starts with antioxidant cleanse
and will use products and techniques personalized to your needs.
Brightening Facial

$95 1 hr
Reveal a brighter complexion while reducing the appearance of hyper pigmentation and sun damage. Includes a cleanse, toner application, exfoliation, customized
serum, mask and eye treatment.
Anti-Aging Facial

$129 1 hr
Capture your true glow with this restorative facial treatment which begins with a anti-oxidant cleanse, cranberry enzyme exfoliation. The magic unfolds as your esthetician stimulates collagen with restoring massag
e.
This is an anti-aging facial that is good for all skin types.
Waxing cannot be booked with this facial.
Acne Purifying Facial

$89 1 hr
Increases the
level of correction, helps clear stubborn bacteria, encourages scar tissue remodeling and improves blemishes. Results are most effective with series of treatments.
Natural Pumpkin Peel Facial

$89.00 1 hr

An intensive exfoliating treatment for all skin types. This unique pumpkin and multi-fruit complex combines over 100 beneficial nutrients with naturally occurring acids and enzymes to detoxify and exfoliate dead skin cells while nourishing the underlying tissue promoting the growth and health of cells and tissue resulting in radiant, younger looking skin.
Upgrade Acne Anti Aging Facial

$129 1 hr 10min
Acne Age-Defying Purifying facial that includes a double mask along with an Infusion Peel
.

Facial add-on
Only available with a Facial service



Lip Treatment

$12.
A gentle buffing treatment for lips , contains exfoliation sugar cane crystals and soothing aromatherapist oils, sweeps away dead, peeling skin, reduces lines, and promotes healthy natural color.

Eye rejuvenation

$14
This powerful eye serum utilizes ingredients that work with the skin to effectively reduce puffiness, Lines, And dark circles. It also contains proven ingredients to increase collagen and elastin as well as to firm and protect the delicate layers around the eye.

Light Therapy
Anti-aging light

$25 20 min
Simulate collagen and elastin production to eliminate fine lines and wrinkles, firm and tones and restore youthful radiance. Minimize appearance of pores, increase skin density. Helps prevent environmental damage.
Wrinkle light

$25 20 min
Stimulate circulation for radiant glow, promote deeper product absorption, reduce inflammation, stimulate oxygenation and hydration. Use in conjunction with other treatments such as microdermabrasion, microcurrent and
peels for a noticeable enhanced results, speeds healing and recovery time after Laser,minimize appearance of pores, tighten and tone the skin.
Acne light

$25 20 min
Clinically proven effective in the destruction of acne bacteria without side effects or irritation, shrink enlarged pores, calm inflammation and redness for noticeable improved appearance of the skin
Waxing
Eye Brows


Upper Lip


Partial Face




Full Face





Half Arm




Full Arm




Under Arm



Bikini
Brazilian
Back



Half Leg




Full Leg




Full Le

g/Bikini
Full Leg/Brazilian

$15

$12

$29

$50

$29

$40

$18

$29

$49

$40

$38

$69

$85

$98